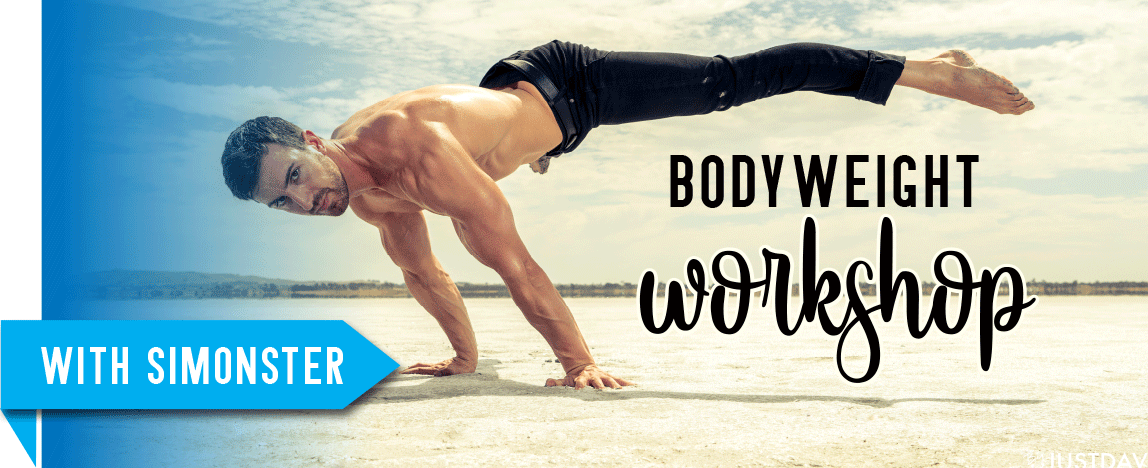 Simonster's Bodyweight Strength Training Workshop

>>>>>----------------------------------------
Date: Sat, Aug 24th - Sun, Aug 25th, 2019
Location: 777 Santa Fe Dr, Denver CO
Check out the Facebook Event Page
>>>>>----------------------------------------
​
Learn from a world-leading bodyweight expert! Simonster's bodyweight strength training workshop at Awaken Denver will provide a systematic method for getting strong through bodyweight training. This workshop is suitable for ALL ability levels and will provide a blueprint for progressing from absolute beginner to bodyweight mastery.
The workshop will take place over two days, with each day consisting of a three-hour session.
You will learn:
How to create a bodyweight training program

How to progress bodyweight exercises from easy to hard

Fundamental strength skills

Mobility/flexibility development
Skills covered:
​
Handstand

Handstand push-ups

Planche

Front lever

Back lever

Human flag (side lever)

Muscle-up
​
With a background in physiotherapy, Simon will be teaching science-based methods for maximizing strength with an emphasis on safety and longevity. The purpose of this workshop is to empower participants with knowledge and techniques they can apply to their own practice to further their development.
Weekend Workshop Schedule:
Bring: Materials to take notes if desired, workout clothing, and consider bringing a light snack like a banana, nuts or energy bar and a bottle of water.
>>>>>----------------------------------------
SAT, Aug 24th Schedule: 2 - 5pm
2pm - 2:15pm - Introduction
​
2:15pm - 2:30pm - Warm-up and Stretching Theory
​
2:30pm - 2:45pm - Warm-up
​
2:45pm - 3pm - Fundamental Principles
​
3pm - 3:30pm - Stretching
​
3:30pm - 4:15pm - Handstand
​
4:15pm - 5pm - Intro to Pull-ups and Muscle-ups
>>>>>----------------------------------------
SUN, Aug 25th Schedule: 2 - 5pm
2pm - 2:30pm - Fundamentla Exercise Principles
​
2:30pm - 3pm - Planche
​
3pm - 3:30pm - Front Lever
​
3:30pm - 4pm - Back Lever
​
4pm - 4:30pm - Handstand Pushups
​
4:30pm - 5pm - Human Flag
Simon Ata aka Simonster is a world leader in bodyweight training. Starting gymnastics at an early age, he became passionate about mastering control of the body and immersed himself in the world of bodyweight strength training. Expanding his skillset with training in martial arts, circus, and breakdance, his movements and teachings reflect a mixture of knowledge from each of these disciplines. Attaining a physiotherapy degree alongside personal training qualifications furthered his understanding of the body from an academic side and accelerated his training methods and skill. Simons strives to open the door to bodyweight training for beginners and maximize results for advanced athletes through systematic training methods backed by scientific evidence and personal experience.
​
Follow him on his social platforms!